SkyTrack Launch Monitor
---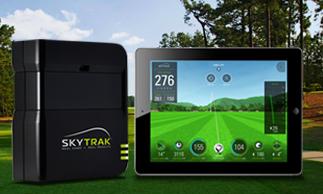 Powered by a breakthrough in commercial-quality launch monitor technology, SkyTrak is the first affordable practice, play and entertainment simulator that provides realistic results that compare accurately to your actual shot-making ability.
After downloading the FREE App, SkyTrak connects easily and quickly to compatible iPads via its built-in Wi-Fi hotspot and you are ready start hitting shots on the SkyTrak 3D Practice Range anywhere at any time. No wires to connect and SkyTrak even has its own battery for total portability. With SkyTrak Shot-Tracer technology, see the ball fly on your iPad, and receive instant feedback on the shot shape, launch angle, spin rate, carry distance, and much more to improve your game. With Shot-Tracer providing views from two camera angles, your practice time will be better and you will get more information than actually being at the course.
Until SkyTrak, you could not expect such accuracy in a simulator unless you spent £5,000, £15,000 or more on a commercial-grade launch monitor or golf simulator that could cost more than £25,000. SkyTrak is revolutionary in terms of price, performance and its ability to provide quality practice, addictive challenges and fun for you, your friends and your family without ever leaving home.
ACCURATE AND AFFORDABLE
SkyTrak is a fun, yet serious tool designed specifically to help you improve your game. For the first time, you can afford a reliable simulator that provides the accuracy of a commercial-grade launch monitor that could cost £10,000 or more.
REALISTIC BALL FLIGHT
Get immediate feedback on every shot with instant 3D visualization, powered by SkyTrak's advanced flight model and ball spin measurement. Most simulators, even those costing more than £5,000 and up to £25,000 do not produce results that are representative of your actual ball striking ability. SkyTrak is designed to give you the same feedback you would get at the course hitting your balls with your clubs.
PRACTICE ANYWHERE, ANYTIME with NO WIRES or CABLES
SkyTrak's unique design is completely wireless, giving you the freedom to play anywhere.
Click here to visit SkyTrak's website where you can order yours or find out more.
SkyTrak Features
SkyTrak is a revolutionary development in affordable launch monitor technology to provide unmatched accuracy in the golf simulation market. Packing a lot of power, advanced features and fun into a small package, you will quickly see that SkyTrak is in a class by itself. Features include:
Photometric Launch Monitor with Commercial-Grade Accuracy
Completely Wireless Design
Connects via Wi-Fi to iPad Air
Rechargeable Lithium-ion Battery to eliminate power cables
Compact size measuring only Height: 6.75", Length: 5.75", Width: 2.5" and weighs only 1.75lbs
Ambidextrous
Robust Set of Measured Parameters: Ball Speed, Launch Angle, Back Spin, Side Spin, Side Angle
Free IOS App with Basic Practice Range Package
Available for download from the Apple App Store for use on an iPad Air.
Optional upgrade package available starting at £79
SkyTrak Hardware Compatibility
SkyTrak requires 3D graphics support. The following passed compatibility testing:
iPad Air
iPad Air 2
iPad Mini 2 (with Retina Display)
iPad Mini 3
*Any iPad models produced after 2014 are likely to be compatible.
SkyTrak is now available for your PC Windows desktop.
Windows System Requirements:
Windows 7, 8 or 10
Intel Core 2 Duo @ 2.0GHz or higher
2GB RAM or higher